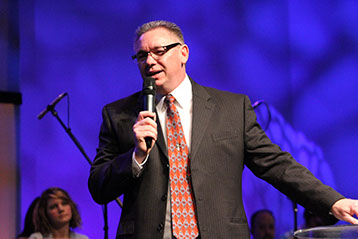 Eric Branch served the church as senior pastor for 23 years, leading the church from its beginnings as the small Easley Christian Fellowship through it's growth into New Image Church at the present location at 311 Anderson Highway.
Pastors Eric and Kimberly met each other in their teenage years in West Columbia, S.C. and dated over 4 years before marrying.  It was early 1990 when they both surrendered their entire lives over to the Lord Jesus Christ and accepted Him as their Lord and Savior. During the radical transformation work that had began, God revealed his plan and calling for their lives to labor and serve God's people together in ministry.  He had given them a clear vision involving pastoral ministry to a diverse group of people.
After a series of miraculous events and timing, God orchestrated their steps to answer the awesome call to ministry. Recognizing the incredible honor and privilege to serve the Lord in this capacity, the Lord then led Eric to Holmes College of the Bible in Greenville, S.C. in January 1991. They then married in June of 1991 and Kimberly worked full time over the course of eleven years at C&S Bank, now known as Bank of America, supporting Eric in his full-time seminary endeavors, while Eric, soon after being married, began working part time at BiLo as a customer service manager and trainer.  In July of 1993 they were blessed with their firstborn son, Kyle, and Eric continued to attend college full time while taking on a full time job at the Greenville Law Enforcement Division.
In October of 1993, Eric and his family began their first part time pastorate at a very small church in Central, S.C. while still attending Holmes College of the Bible. In June of 1994, the Lord led them to a beautiful country church in Clinton, S.C. where the Lord began to shape and prepare them for the future ministry ahead of them.   It was there in Clinton they were blessed again with their second child, Brittney in July of 1995.  Eric then received his Bachelor of Arts degree in Pastoral Ministries from Holmes College of the Bible in December 1995. During this time period, the vision for ministry God had given Pastor Eric had intensified and God revealed to him that there was "a place where the people needed a leader" and a place where the vision of ministry to a diversity of people would finally come to pass.
It was in November of 1996 when Pastor Eric and his family moved to Easley to help lead and revitalize the congregation of New Image Church. At the time the church was known as Easley Christian Fellowship and had about 30 people, of which during the first year half either left the church or died.  But the church had an unstoppable dream to love people and to be "A Church For All People."
The church grew tremendously and through the leadership and vision of Pastors Eric and Kimberly to reach more than the location could sustain, the church bought property and began building a new sanctuary, which led to relocating of the congregation to its current location on Anderson Highway in Easley.