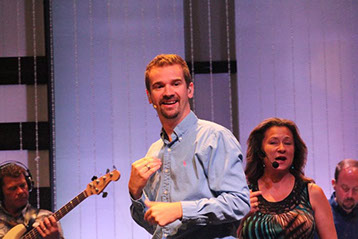 New Image Vision Runner Ministries is a powerful worship ministry team of the arts. Within this team are many facets and supporting teams of people representing many different backgrounds, talents and gifts.
The various teams of the New Image VRM ministry come together each week to lead people into the throne room of God, set an atmosphere that God will inhabit in each of our services and challenge believers into an ever-growing lifestyle of worship to our King of Kings.
Worship to God is so much more than a thought of praise, it's an expression of our heart surrendered to Him and requires our active participation. The expressions on our face, our heart open to Him, and the passion with which we worship ignites others in the congregation to participate with their own expressions of praise and worship to the Lord.
When we come together to worship corporately, we experience God's presence and power to heal, liberate, deliver, move the hearts of people toward salvation and ignite the believers to reaching their ultimate destiny in God. New Image VRM consists of many teams:
Band
Praise Team
Dance Team
Video
Media
Lighting
Audio
If you are interested in becoming a part of New Image Vision Runner Ministries team please fill out the Guidelines Form and return to the Guest Services desk in the church lobby.